President's Native American Advisory Council
The University of California President's Native American Advisory Council advises senior UC leadership on a broad range of issues that affect the the experience of Native American members of the UC community — students, faculty and staff. This council is convened by the Provost and Executive Vice President for Academic Affairs.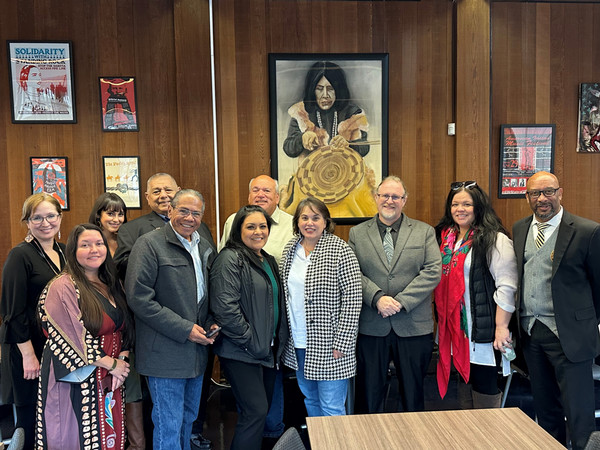 Relevant areas include:
Treatment of Native American human remains and cultural artifacts
Recruitment and retention of Native American students, faculty and staff at UC
Academic and co-curricular issues related to UC's Native American community
Opportunities for university engagement with Native American communities in California
PNAAC-supported efforts include:
Guidance on UC Policy on Native American Cultural Affiliation and Repatriation
Advocacy for the development of the Native American Opportunity Plan
---
Membership
The Council comprises educators, scholars, tribal leaders, policy makers and UC faculty and staff who can speak on issues pertaining to the Native American community. Members are appointed by the president of the university. Council members serve two-year terms and may be reappointed to a successive term, not to exceed four years.


President's Native American Advisory Council Roster
Randall Akee
(Native Hawaiian)
Associate Professor, Public Policy and American Indian Studies, UCLA

Cutcha Baldy
(Hoopa Valley Tribe)
Associate Professor, Native American Studies,
Humboldt State University

Phenocia Bauerle
(Crow Nation)
Director, Native American Student Development,
UC Berkeley

Olivia Chilcote
(San Luis Rey Band of Mission Indians)
Assistant Professor of American Indian Studies,
San Diego State University

Wallace Cleaves
(Tongva Tribe)
University Writing Program, Associate Director,
UC Riverside

Jeff Grubbe
(Agua Caliente Band of Cahuilla Indians)
Tribal Chair, Agua Caliente Band of Cahuilla Indians

Elena Hood
(Pauma Band of Luiseño Indians)
Director of the Intertribal Resource Center,
UC San Diego

Amy Lonetree
(Ho-Chunk)
Associate Professor of History, UC Santa Cruz

Valentin Lopez
(Amah Mutsun Tribal Band)
Tribal Chair, Amah Mutsun Tribal Band

Merri Lopez-Keifer
(San Luis Rey Band of Mission Indians)
Director of the Office of Native American Affairs, California Dept. of Justice Attorney General's Office

Mark Macarro
(Pechanga Band of Luiseño Indians)
Tribal Chair, Pechanga Band of Luiseño Indians

Cody J. Martinez
(Sycuan Band of the Kumeyaay Nation)
Tribal Chair, Sycuan Band of the Kumeyaay Nation

Nicole Myers-Lim
(Pinoleville Tribal Nation)
Executive Director, California Indian Museum and Cultural Center

Terria Smith
(Torres Martinez Desert Cahuilla)
California Indian Publishing Director, Heyday; Editor, News From Native California

Stanley Rodriguez
(Kumeyaay — Santa Ysabel Band of the Iipay Nation)
Tribal Council Member, Santa Ysabel Tribal Government

Niki Sandoval
(Santa Ynez Band of Chumash Indians)
Senior Strategic Development Manager, WestEd

Christina Snider
(Dry Creek Rancheria Band of Pomo Indians)
Executive Secretary, Native American Heritage Commission

Wendy Teeter
Curator of Archaeology, Fowler Museum, UCLA

Ricardo Torres
(Winnemem Wintu)
Faculty/Counselor, Cal State Sacramento
Leadership
---
Advisory councils, special work groups and affinity groups
---
Native American Cultural Affiliation and Repatriation Policy