UC Chicanx/Latinx Leadership Summit
The UC Chicanx/Latinx Leadership Summit gathers UC professionals to explore the Chicanx/Latinx presence at UC and how to engage young leadership.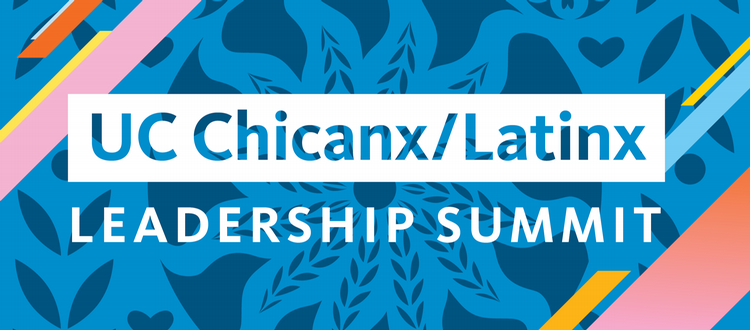 NOVEMBER 3 and 4, 2023 at UC Riverside

Join your Chicanx/Latinx colegas for two days of connection, joy and comunidad at the first in-person summit since January 2020!

The UC Chicano/Latino Advisory Council is pleased to announce the 4th Annual Latinx Leadership Summit, this year at UC Riverside. The Leadership Summit is an annual meeting where faculty, staff and administrators from across the UC Latinx community come together and use their collective knowledge to identify systemwide challenges and opportunities. In addition, the summit aims to support personal and professional development among aspiring and emerging Latinx leaders who are interested in leadership within UC. This year's theme is Nuestras Posibilidades/Our Possibilities: Surviving, Thriving and Transforming the Institution.

Attendees will engage in:
Leadership discussions designed for Chicanx/Latinx faculty and staff
Updates on data as it relates to the Latinx community at UC
Special workshops related to career development and personal wellness
Participate in campus-specific teams to lay the foundation for institutional work to take place within the next year
Networking reception at the Cheech Marin Center for Chicano Art & Culture of the Riverside Art Museum
Stay tuned for more information about keynote speakers and guest speakers.
Travel and Lodging Hotel blocks are available at the Courtyard by Marriott Riverside UCR and Hampton Inn Riverside Downtown.
Marriott Courtyard Riverside
This hotel is now full; please make arrangements at the Hampton Inn. Thank you! 
----------

Hampton Inn Riverside Downtown
3505 Market Street / Riverside, CA 92501

Jennifer Ortega
jennifer.anter@hilton.com
951-788-5000 (office)
951-237-1791 (cell)

Block deadline 10/2/23
$259 a night plus taxes (30 rooms for two nights - 60 room block)
$23 daily self parking
Registration link: UCR CLAC Summit Hampton Inn

---
SUMMIT AGENDA
Day 1
9:00 – 10:00 a.m.
Cafecito y Charla

10:00 – 10:30 a.m.
Welcome Remarks

10:30 – 11:30 a.m.
Opening Plenary: A Look at the Data
Overview of Latinx Leadership in the UC

11:30 a.m. – 1:00 p.m.
Keynote Luncheon

1:00 – 4:00 p.m.
Concurrent Sessions
• Pathways to Leadership Panels (1:00 – 1:50 p.m.)
• Career Advancement Workshops (2:00 – 2:50 p.m.)
• Wellness & Personal Development Sessions (3:00 – 3:50 p.m.)

6:00 – 10:00 p.m.
Networking Reception
__________

Day 2
8:00 – 9:00 a.m.
Cafecito y Charla

9:00 – 9:30 a.m.
Welcome Keynote

9:30 – 10:00 a.m.
Lightning Round Presentations

10:00 – 11:00 a.m.
Campus Working Groups

11:00 a.m. – 12:00 p.m.
Summit Outcomes & Key Takeaways Discussion